2014 STOKKE CRUSI BABY STROLLER -  € 800
2013 STOKKE CRUSI BABY STROLLER -  € 680
The Stokke Crusi is a multi-talented stroller that not only grows with your child, but grows with your family. The Crusi is an ideal solution for your first and second child.
During each phase of the Crusi journey, there are many features to help make your life easier. A large shopping basket at the base of the Crusi is big enough to fit 2 or 3 supermarket shopping bags, and for additional storage you can clip the Stokke changing bag to the chassis to carry your nappies, wipes, changing mat, purse and a change of clothes. The Crusi has suspension to help ride the bumps on the pavement and allows for a smoother ride, and rear wheel brakes allows you to park up without risk of rolling away. The swivel wheels are also lockable in the forward direction.

What's in the box with the 2013 Stokke Crusi Complete Stroller:
Stokke Crusi chassis
Stokke Carrycot Crusi
Stokke Crusi Sibling seat w / Adapter
Stokke cup holder
Stokke Crusi Sibling second seat
Stokke Crusi Bag
Crusi Stokke Mosquito Net
Stokke Crusi raincover
Stokke Crusi Parasol Parasol

Weight:
Chassis: 8,6 kg
Chassis with Carry Cot: 13,6 kg
Chassis with Xplory® & Crusi Seat: 12,8 kg
Dimensions:
Chassis can be folded to L: 98 cm, W: 62 cm, H: 30 cm (Wheels can easily
be removed)
2014 V4 STOKKE XPLORY SPORTWAGEN STROLLER  -  €650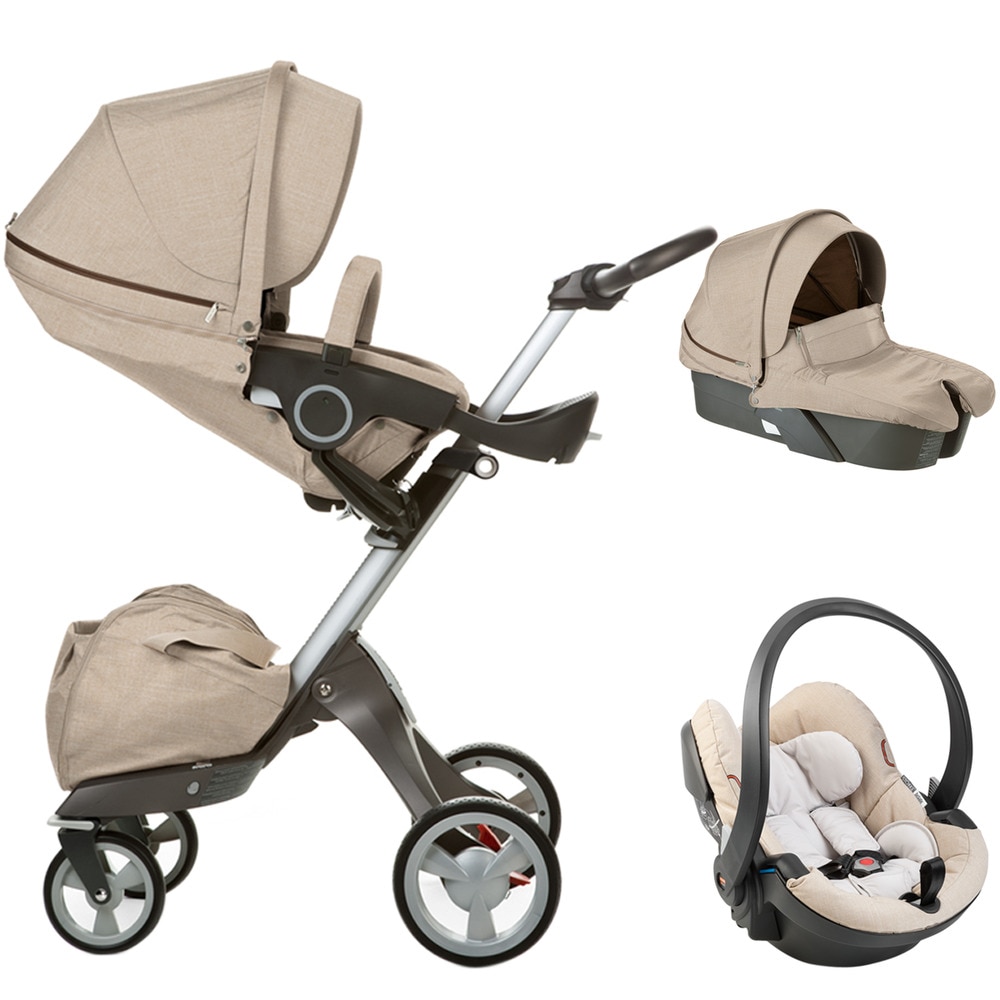 The Stokke Xplory fits around your child, from top to bottom, with every inch designed to enhance the experience of moving through the world, and gently embracing your child while he or she is doing just that. From the obvious height advantage offered by the Stokke Xplory stroller's raised seat, down to the adaptable footrest. Ensuring safety and ease of movement no matter how tall or small your child is, the Stokke Xplory enables comfortable and secure movement.
What's in the box?
Xplory Chassis
Xplory Seat
Xplory Wheels
Xplory Textile Set- including seat padding, rear textile cover, harness protector, seat rail cover, hood and visor, baby pad, shopping bag, mosquito net, & rain cover
Weight
Chassis with seat 10,5 kg/23 lbs
Chassis with carry cot 12,5 kg/27.5 lbs
Chassis 8.3 kg/18,3 lbs
Weight limit of seat 20.5 kg/45 lbs
Weight limit of carry cot 9 kg/20 lbs
Sibling Board (Stokke Xplory Rider) Intended for use with only one child at a time and is suitable from approx 2 years of age. Maximum weight limit is 20kg/44lbs.
2013 V3 STOKKE XPLORY BABY STROLLER  -  € 550
The Stokke Xplory is a uniquely styled pushchair with offers a high seating position for the child to give it a good connection with the parent. The Xplory is a travel system with a large seat, roomy carrycot and car seat options. The Xplory is easy to push about town. The seat can parent or forward face, and can be adjusted to suit children from birth to 4.
The V3 stroller, released in Australia last month, features, among other things:
•    Fresh new seat fabrics and colours
•    Innovative quick fold visor
•    Larger, removable basket
•    Padded baby insert for a snug fit from birth
•    Easy-click footrest
•    New hood design allowing for added ventilation
In the box, the Stokke® Xplory® (chassis and seat incl. textiles) weighs 17.8 kg and measures 99 x 60 x 40 cm. The Stokke Xplory® Carry Cot, which is packed separately, weighs 5.3 kg and measures 87 x 42 x 23 cm.
If you want to know whether the chassis will fit the trunk of your car when folded, the dimensions are as follows:

Length 105 cm
Height 30 cm
Max. Width (between axes) 55 cm
2013 STOKKE SCOOT TRAVEL SYSTEM -  € 420
Specs
Stroller weight: 23 lbs (with the seat)
Weight limit: 45 lbs
Folded dimensions: 18″H x 22.5″W x 36″L
Handle bar height: 38″ – 42″
Seat to canopy height: 25″
Wheels: 7″
Overall length: 25″
Overall width: 21″
Warranty
Stokke has 3-year warranty from the original date of purchase and you have to be the original owner.